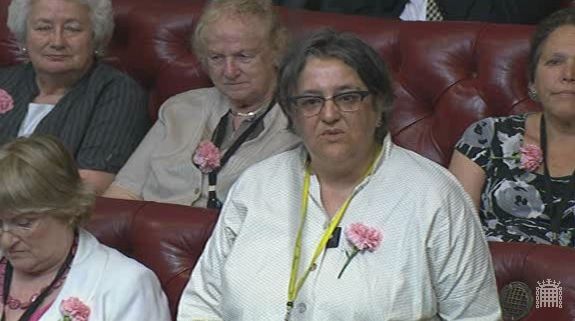 Wearing pink carnation boutonnieres to show their support for equality, today the British House of Lords gave their final approval to the Marriage (Same Sex Couples) Bill with an unopposed third reading voice vote.
Support for the bill in the House of Lords has been strong since its introduction there on June 4 when a killing amendment offered by Lord Geoffrey Dear was decisively defeated 390 to 148.
The bill, which would legalize marriage for same-sex couples in England and Wales, was passed overwhelmingly by the House of Commons on a second reading vote of 400 to 175 and a third reading vote of 366 to 161.
The bill now goes back to the House of Commons for consideration of the friendly amendments attached to it by the House of Lords.  If the Commons approves the changes, the bill must then receive Royal Assent before becoming law.  Bill progress can be monitored here.