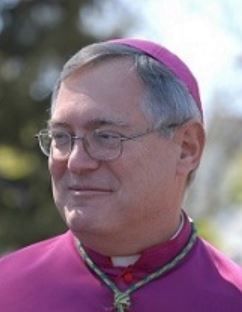 It would be putting it mildly to say that Thomas J. Tobin, the Roman Catholic Bishop of Providence, Rhode Island, opposed the recently-passed marriage equality bill.  When the bill was introduced in early 2011, Bishop Tobin pulled no punches by asserting that the "push to legalize the marriage of homosexual persons is morally wrong and detrimental to the well-being of our State."
By March of 2013, when all signs pointed to the bill passing, the bishop showed his desperation to at least hobble the progress he couldn't stop by backing an amendment that would have legalized marriage for same-sex couples, but would also have allowed businesses to discriminate against gay and lesbian couples hiring them for wedding-related events.  Bishop Tobin called it "an eminently reasonable approach."
A few weeks later, Bishop Tobin even falsely stated that "any legislative action that is taken now could very well be rendered completely null and void by the decision of the Supreme Court expected this June" in his effort to persuade the Rhode Island Senate to delay action on the marriage equality bill.
On the day that Gov. Lincoln Chafee signed the marriage equality bill, the bishop told his flock that attending a same-sex wedding "might harm their relationship with God and cause significant scandal to others."
In short, Bishop Tobin was so opposed to marriage equality that he was willing to lie about the reach of Supreme Court decisions, back a ridiculous poison pill amendment, and say that marriage equality would not just hurt the state of Rhode Island but injure one's personal relationship with God.
Yet Bishop Tobin's loathing of marriage equality and Democrats' support of it wasn't enough to prompt him to leave the Democratic Party.  Bishop Tobin recently "changed his political affiliation from Democrat to Republican, largely based on his dismay at the Democratic Party's support for abortion rights," Providence Journal reports.
After all he has said and done over the years to oppose marriage equality, this news raises the question of whether Bishop Tobin's opposition to marriage equality has been more vocational than personal.  After all, it's always been obvious that even though the marriage equality bill had strong bipartisan support, Democratic legislators provided most of the votes for its passage.