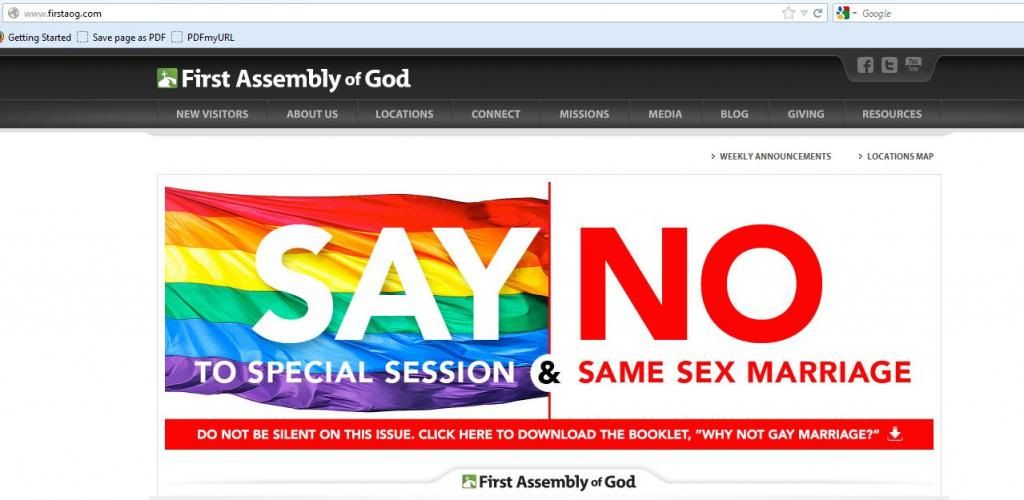 Hawaii's First Assembly of God  churches are so opposed to the passage of a marriage equality law during a special legislative session next month that they're not only dedicating their main webpage to this political issue (right), they're lying about the proposed new law's effects on their institution.
The organization's main web page asks readers to download a booklet called "Why Not Gay Marriage?", which states the following under the heading "Religious Freedom":
Don't be surprised, either, when churches are forced to perform same-sex wedding ceremonies.  Does anyone really believe the ACLU will not challenge churches when they refuse to honor their "constitutionally protected" same-sex marriage?
There is no excuse for First Assembly of God to make such an absurd statement.  Every church enjoys the legal right under the First Amendment of the U.S. Constitution to discriminate against any couple, same-sex or otherwise, that wishes to be married by its clergy or in its church.
But Hawaii's First Assembly of God doesn't have to take my word for it.  Richard Hammar, General Counsel of the Assemblies of God denomination, has been saying as much for years.  In the video "Performing Same Sex Marriages", which has been available on the Assemblies of God website since 2009, Mr. Hammar reviews numerous state supreme court, federal court and US Supreme Court cases involving same-sex marriage before concluding:
No church will be required to perform a same-sex marriage, or any other marriage, that violates its religious beliefs; and
No minister will be required to preform a marriage in violation of his or her religious beliefs.
You can't get much more unequivocal than that.  Hawaii's First Assembly of God needs to explain why they're ignoring their own denomination's legal counsel in favor of a lie.
Related:  Assemblies of God Lawyer Assures Pastors That They Can Legally Refuse to Conduct Same-Sex Marriages